 French technology and manufacturing
From our workshops in Yvelines, we are providing all of our services.
All the stages, from the conception to the manufacturing and including the calibration of the sensors, are assured internally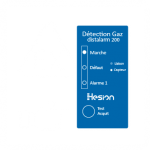 Simple and reliable
The simplicity of a system requires a perfect analysis of the need
In the test of time and in the respect of the most demanding regulations, Hesion products stand out as a benchmark in the field of gas detection Lightened service
Hesion does not impose commissioning of the devices or on-site maintenance
Our solution of standard exchange is supple and economic in your interest
Our solutions
A clear answer to your needs for gas detection and ventilation management for your premises.
Hesion, corresponds to two complementary visions as for parking lots and movements, as for Disfatel and Altaïr Vision.
Disfatel has been recognised for more than 40 years as a key actor for air quality and the smart management of parking lot air flow.
Our solutions: For whom ?
You want to submit your project proposal? Come and talk about it with us!